Terms and conditions for Pick-up parcel
General terms of delivery and payment for parcels sent to pick-up points in Norway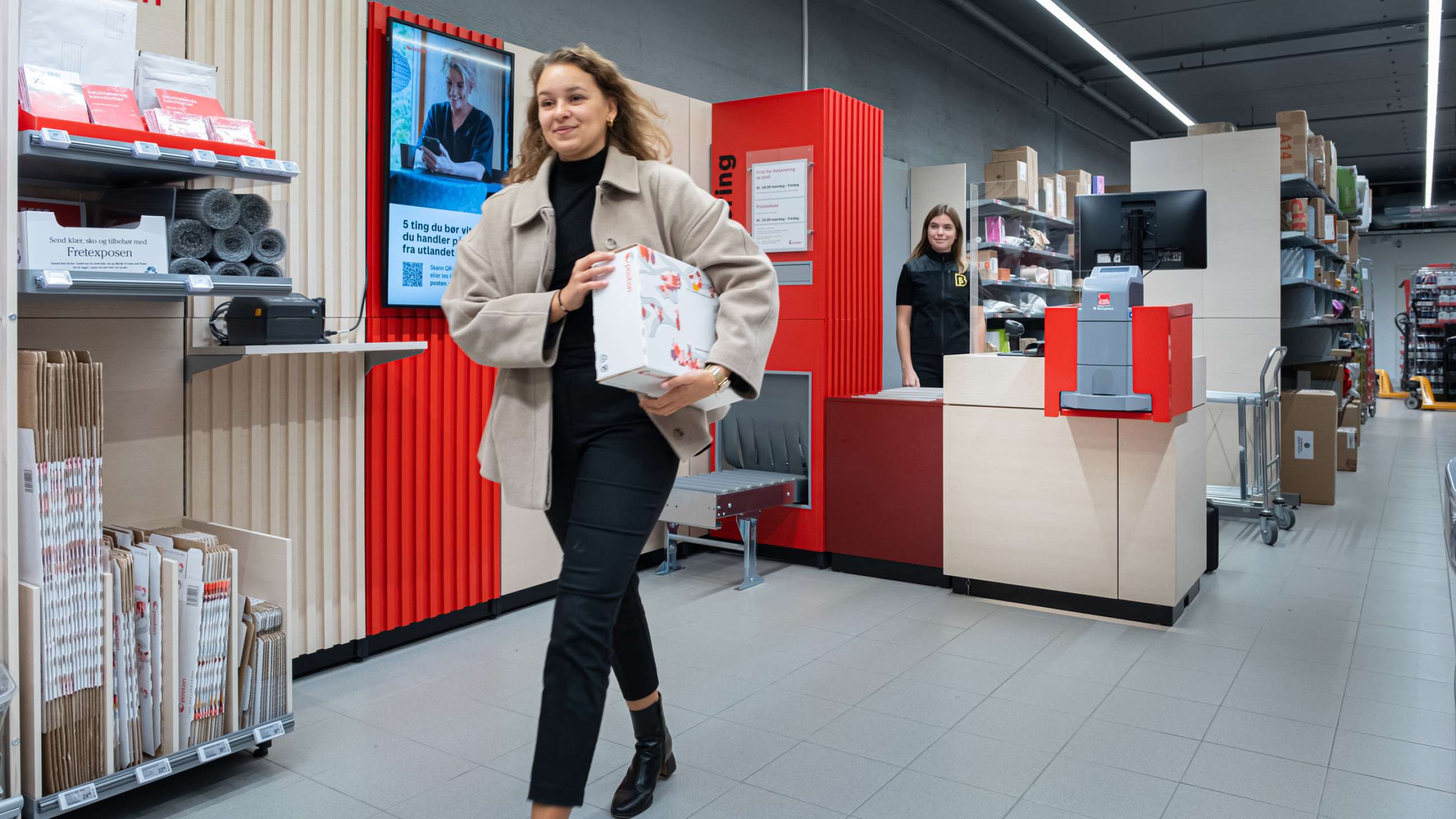 Conditions for using the service
This service is used for shipments from business to private costumers. (Can also be used to businesses).
Coverage area
All of Norway
Pick-up from customer
Not included in the service offered, but can be arranged. (No pick-up on Christmas Eve and New Year's Eve). It is also possible to deliver the parcel to a post in store/post office.
Transit time
Mainly 1-3 working days, depending on the route. 4-5 days to certain destinations. See the delivery table here. Does not include a time guarantee or any kind of delivery guarantee.
Method of delivery
The parcel is picked up at a post in store, post office or from a pick-up machine. The recipient signs for delivery (except for pick-up machine).
If the delivery method/location is not suitable, the recipient can order 1) delivery to a chosen pick-up point, 2) home delivery or 3) the package to be left at the agreed location. Changes to the mode of delivery/location are at the recipient's expense and risk. Bring's compensation liability applies to alternatives 1 and 2 in all cases.
Notification of package arrived
E-notification (SMS/e-mail) at no additional cost provided that we have the mobile number or email address. Collection notice/note in the mailbox costs extra. Driver cards are left if possible for products delivered to the door as standard. Notification is also provided via Posten's app if the recipient uses it.
Pick-up deadline
The pick-up deadline for shipments is 14 days. For text/email notification and app, a reminder is sent on day 3 and day 11. A physical reminder is sent to the recipient after 5 days. Parcels that are not collected within the deadline are returned. NB: Domestic parcels arriving in the period from 1 to 17 July will not be returned until August 1 and can be picked up throughout July. Parcels will also not be returned in the period 23.12.--6.1 (may vary from year to year).
From 01.10.2022 the pick-up deadline for parcels picked up at Post-in-stores and in Parcel boxes will be changed from 14 days to 7 days. The recipient can request an extended pick-up deadline from 7 to 14 days free of charge via the Posten App or via text message.
Maximum weight and maximum dimensions
Maximum weight: 35 kg per package
Maximum length: 240 cm
Length + "circumference" (2 x width + height): maximum 360 cm
Minimum dimensions
23 x 13 x 1 cm
Packaging
The sender is responsible for ensuring that the contents of a parcel are packed securely. There are often several unloading/sorting tasks along the way, so the packaging must be solid and adapted to the goods to be shipped. Fragile items must be surrounded by impact-absorbing material to absorb pressure and impact while protecting the contents. Goods placed on pallets must be covered in plastic, secured by slings or packaged in such a way as to ensure the best possible protection against damage and to remain on the pallet during the entire transportation period.
Hazardous goods
Posten does not have its own processing and transportation line for hazardous goods/contents and therefore cannot carry goods classified as hazardous goods in accordance with the international regulations "ADR - transport of Dangerous Goods by Road" More information on this can be found at posten.no/bring.no or via Posten's customer service phone number 04045.
Labelling
Approved and correctly completed transport labels/address cards must be used. If an unapproved address label is used the shipment can be rejected.
EDI
Can be used. EDI requires a simple computer program for marking as well as the generation and transmission of shipment information.
The EDI order must be sent Bring before the relevant shipments are picked up / handed in to Bring / Bring's partner.
Price
The price is according to the current price list unless otherwise agreed. See prices here.
Handling surcharge
For packages where one of the sides is over 120cm or two of the sides are over 60 cm, a surcharge for manual handling will apply. The same applies to parcels below the minimum size, cylindrical parcels and parcels without packaging. See the current price list.
Svalbard surcharge
A fixed price surcharge applies to parcels to Svalbard. See price list.
Form of payment/invoice
Credit requirements and payment terms are clarified with the Credit Department. The Credit Department informs the customer about the credit terms directly via email. All submitted assignments can be invoiced. In case of late payment, delayed payment interest will accrue in accordance with the Norwegian Act concerning interest on overdue payments. Posten charges a standard reminder/collection fee. In case of payment default, invoices not yet due are are also considered as due and can be recovered together with overdue claims. Posten is entitled to set off its outstanding accounts against claims that the customer has against Posten. Posten can stop invoicing services with immediate effect if the agreed credit limit is exceeded due to payment default or the customer's creditworthiness is downgraded by the credit information agency. In cases where creditworthiness is downgraded, the customer may be offered a new credit agreement against security. The item determines the amount of the security. Claims must be made within the due date. Only the claimed part of an invoice can be withheld during the claim processing. In the event of a demerger, the agreement is terminated if the contracting party is the company transferred. The agreement terminates with immediate effect if a company is reported as dissolved to the Register of Business Enterprises or bankruptcy proceedings are initiated.
Form of payment/parcels via franking machine
Parcels and optional services are prepaid by recharging the postage machine with the desired amount.
Deviations between the customer's valuation on the franking machine and the price calculation carried out by Bring are settled in arrears.
Deviations are accumulated and invoiced to the customer at least once every three months, according to current procedures, cf. the item "Invoice" - text in italics.
If the customer has paid too much, the excess amount will be credited at least once every three months. Amounts under NOK 100 over a three-month period are not credited to the customer.
Cash
No
Time guarantee
No
Responsibility
Parcels and goods shipped with Posten Norge AS under the Bring brand are regulated by the Act on road freight contracts.
Claims for compensation
Claims for compensation must be made without undue delay and sent within 1 year of the delivery date. As a rule, this must be done by the sender. Claim forms are available at the post office. Documentation must be provided showing that the package was sent.
Changes and modifications
The terms and conditions may be changed by Posten by giving one month's notice.
Returns service
Yes, service offered. When using EDI, the advance notice must be sent at the same time as the transport label is printed.