Business pallet
Business pallet is a simplified shipping service that gives you the same shipping capacity as Business groupage, but at a fixed and predictable price.
Nationwide pallet transport, including Svalbard
Highly predictable pricing with easy invoicing
Tracking along the way and GPS coordinates on delivery
Business pallet is the perfect service for you, whether you already send goods by pallet today, or if you're able to send multiple items to the same recipient on a single pallet. Pallets are picked up right from your or the sender's door or ramp, and we deliver directly to your customer's door/ramp. Pallets provide various advantages over loose parcels. For example, goods that are stacked and plasticized on pallets are better protected against damage.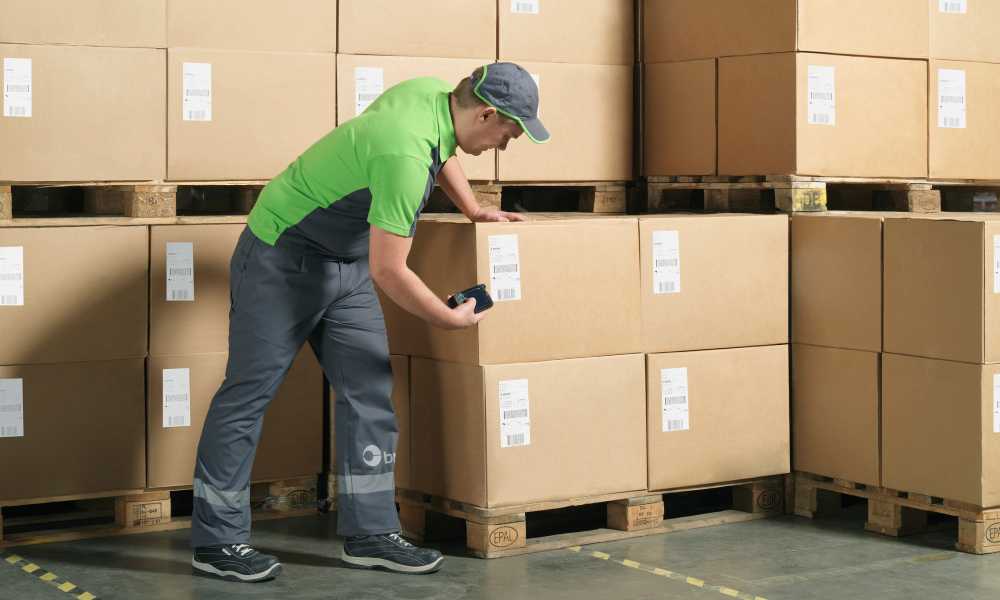 How much does it cost?
How to calculate the price
Business pallet has fewer value-added services than ordinary part loads. This is what makes the pricing and invoicing more predictable. The most frequently used value-added services can be found a little further down the page. You can view all value-added services and what they cost in the value-added services price list.

Prices, terms and conditions
What do you need to know?
Service specifications
Weight
Max weight per pallet:
800 kg per pallet
You can send up to 12 pallets in the same shipment.
Measurements
Width x length: pallet = 80 x 120 cm
Height: Max 2.2 metres
We send your pallets to recipients throughout Norway and Svalbard, and deliver right to their ramp or door.
2

Ordering and pick-up

You can place your order using the Order button at the top of the page, through your TA system, or via EDI. As a Bring customer, you can also order directly in Mybring, our online booking- and transport tool. Book by 11:30 a.m. for same-day pick-up. Goods are picked up at a designated location, such as at goods receipt.

3

During transport

Groupage loads are transhipped at the terminal and distributed further. You can track your shipment along the way using our tracking service. Shipping time is 1 day to large parts of the country. You can find the shipping time for your consignment in Mybring. There will be some changes in lead times and postal codes from January 1, 2023 (pdf).

4

Delivery and receipt

The recipient will have the shipment delivered to their door between 8 a.m. and 4 p.m, Monday through Friday.
Additional Services
Simplified delivery is a service where the sender asks Bring to leave the goods at the recipient's location without the recipient being present to receive the delivery. The service must be ordered via EDI message. The service is free of charge. According to the agreement with the sender, the driver leaves the goods at street level, registers the goods as delivered and thus ensures traceability for the consignment.

This service entails that the customer accepts the associated risk with regard to liability and surrenders the right to compensation in the event of damage and loss. Not all addresses in Norway are suitable for leaving goods.

Simplified delivery can be offered in online stores so that the buyer himself decides whether this is a desired delivery method.

We will contact the recipient and arrange a time of delivery. Your recipient will be notified 30-60 minutes ahead of delivery.


Shipping is normally paid by the sender. If the company wants Bring to invoice the recipient, a written agreement must be entered into. The service is invoiced with a surcharge per shipment.

Shipping is normally paid by the sender. If the company wants Bring to invoice a third party, a written agreement must be entered into. The service is invoiced with a surcharge per shipment.

Pallets will be exchanged against an electronic registration. The service includes that we exchange EUR-pallets with both sender and receiver of a consignment, and return EUR-pallets to the sender. This service requires an agreement, and will be billed according to our price list.

If you need help labelling goods, we can do the job for you.

If your company is to send chemicals, substances, mixtures, products and articles with such properties that they represent a danger to people, material values and the environment in the event of an accident, these must be sent as dangerous goods.

There are specific requirements in relation to the disclosure of information, labelling and the transport of dangerous goods, and these must be complied with. If there is a breach of responsibility by the sender/customer, the party paying the freight will be charged.

When your goods require temperatures above 0 degree. Applicable between October and March. Please contact your local Bring department if you have further questions regarding non-freeze.